Out of the box, WordPress is a pretty well optimized system, and does a far better job at allowing every single page to be indexed than every other CMS we have used. But there are a few things you should do to make it a lot easier still to work with.
1.1 URLs
1.1.1 Permalink structure

The first thing to change is your permalink structure. You'll find the permalink settings under Settings → Permalinks. The default permalink is ?p=, but I prefer to use either /post-name/ or /category/post-name/. For the first option, you change the setting to /%postname%/: (JamJo will have already done this for you)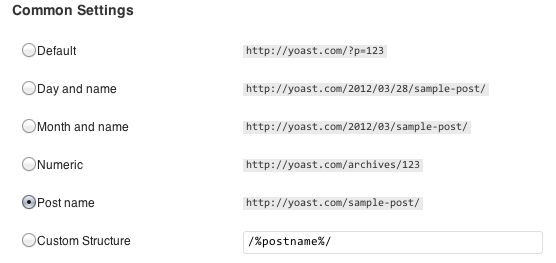 To include the category, you select "Custom Structure" and change the value to /%category%/%postname%/. If you previously had ?p= as your permalink WordPress will take care of all the redirects for you. This is also true if you change from /%postname%/ to /%category%/%postname%/. If you change from any other permalink structure, you might want to email JamJo first because it does impact all pages and posts across your entire website. This change should not be done without developer knowledge.


1.1.2 Stop words

The last thing you'll want to do about your permalinks to increase your WordPress SEO, is remove so called stopwords. Words like "a", "and", "the" etc. As of version 1.1.6, WordPress SEO plugin will automatically remove stop words from your slugs once you save a post, so you won't get those ugly long URL's when you do a sentence style post title.

This is generally not something you want to change after posts have gone live. If people have already linked to it, try to not change the permalink anymore and if you do, make sure the post is properly redirected. In most cases WordPress should redirect the old URL to the new one but if it doesn't you need to make the redirect manually.
1.2 Optimize your Titles for SEO

The title, the contents of your page's tag,  is one of the single most important factors for ranking in the search results. Not only is it the literal title of the tab or browser window, it's also the first line people see in the search results, followed by the URL and the snippet, usually the meta description combined with a date:





On many blogs, the title for blog posts is still "Blog title » Blog Archive » Keyword rich post title" or "Blog title » Keyword rich post title". For your WordPress blog to get the traffic it deserves, this should be the other way around, for two reasons:

Search engines put more weight on the early words, so if your keywords are near the start of the page title you are more likely to rank well.
People scanning result pages see the early words first. If your keywords are at the start of your listing your page is more likely to get clicked on.

This means the ideal title for that plugin page on WordPress.org would actually be "WordPress SEO > WordPress Plugins > WordPress" instead of what it is now.


1.2.1 Controlling titles with the WordPress SEO plugin

You can control your SEO titles with the WordPress SEO plugin. There are two parts of the plugin that control these. First of all, as soon as you install & activate the plugin, you get an SEO section in your admin. Navigate to SEO → Titles & Metas and you'll see a bunch of tabs for different types of pages on your site. For each post type and taxonomy you can set a so called Title Template (as well as meta description templates but we'll get to those later).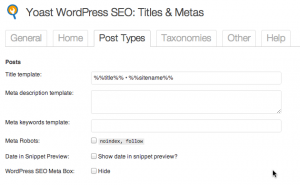 There's a bunch of variables you can use in the titles and meta description, they're all listed and explained on the bottom of the settings page. Be sure to check whether the template actually works and you're not getting a duplicate site title for instance. If this is the case, you might need to check the "Force rewrite" checkbox on the same page or follow the instruction on that page to modify your template.

For the other pages, I have the following settings:

Categories, Tags and other taxonomies: %%term_title%%  Archives %%page%% • %%sitename%%
Search pages: You searched for %%searchphrase%% • %%sitename%%
404 pages: Page not found - Error 404 • %%sitename%%
Author archives: %%name%% • %%cf_role%% at %%sitename%%

The last one shows you a very cool feature: you can use %%cf_%% to use a custom field, this can be either a post custom field, sometimes known as post meta value, or a user meta value. In this particular case it's the custom field "role" I use to store the role of a user within my company. (JamJo will have already configured this step for you)
1.2.2 Optimizing individual posts

So now that we've set decent templates, we can start to optimize individual posts and pages. For that we use the snippet preview added by the WordPress SEO plugin:





This preview will automatically take the values you've already filled in in your blog post and apply them to your template, but you can also override the title completely using the title field just below it:




If you hit the Generate SEO title button on the right it will pre-fill that field with a title based on your template which you can then adjust, or you can write one completely by yourself. The counter will show you how many characters you've got left.

For titles the following things are important:

They should always contain your brand, preferably at the end, so people may recognize you in consecutive searches.
They should always contain the keyword you think is most important for the current post or page, which we'll call the focus keyword from now on. The focus keyword should preferably be at the beginning of the title.
The rest of the title should entice people to click.


1.3 Optimize your descriptions

Now that we've got proper titles, we should start to focus on meta descriptions. The meta description can be used by search engines to show in the snippet, it's the black piece of text shown beneath the URL. The meta description is usually only used when it contains the keyword the searcher was searching for.

Some plugins, most specifically the All in One SEO plugin, use so called "automated descriptions". They use the first sentence of a post to fill the meta description by default. That's not very smart. That first sentence might be an introductory sentence which has hardly anything to do with the subject.

Thus, the only well written description is a hand written one, and if you're thinking of auto generating the meta description, you might as well not do anything and let the search engine control the snippet… If you don't use the meta description, the search engine will find the keyword searched for in your document, and automatically pick a string around that, which gives you a bolded word or two in the results page.

Auto generating a snippet is a "shortcut", and there are no real shortcuts in (WordPress) SEO (none that work anyway).

So, use the meta description field you find in the WordPress SEO plugin to write a meta description. Make sure it entices the reader to click through and make sure that it contains the focus keyword of your post or page at least once.

You'll notice I do not mention meta keywords. I don't use them and neither should you, for an explanation, read this: meta keywords and why we don't use them.


1.4 Image optimization

An often overlooked part of WordPress SEO is how you handle your images. By doing stuff like writing good alt tags for images and thinking of how you name the files, you can get yourself a bit of extra traffic from the different image search engines. Next to that, you're helping out your lesser able readers who check out your site in a screen reader, to make sense of what's otherwise hidden to them.

You should of course be writing good titles and alt tags for each and every image, however, if you don't have the time for that, there is a plugin that can help you. JamJo add the plugin called SEO Friendly Images, and it can automatically add the title of the post and or the image name to the image's alt and title tag:




Using the proper alt attributes for images is also something that is checked in the Page Analysis functionality of the WordPress SEO plugin.
1.5 XML sitemaps

To tell Google and the other search engines that your site has been updated, you can use XML Sitemaps. The WordPress SEO plugin contains an XML Sitemap module by default that you just have to enable. Go to Settings → XML Sitemaps and click the checkbox:





As soon as you've checked the checkbox and hit Save, it'll give you some options but in most cases you won't need those. It generates an XML sitemap for all your posts, pages, custom post types and all your taxonomies like categories and tags and (if applicable) other custom taxonomies.

When you publish a new post or page, the XML sitemap is automatically submitted to Google & Bing allowing them to easily (and quickly) find your new content.

Other than most other XML sitemap plugins, this plugin doesn't generate a static file, which is a very intensive process, especially for large sites. This means there is no "action" on publish, which slows down the publishing of the post. Instead it generates XML sitemaps as a sort of template using WordPress rewrites, which is much faster while also allowing caching plugins to cache the output.

It's also being smart about splitting those sitemaps up into smaller bits, so Google only has to fetch one new XML "sub"-sitemap when a post is published, because the other sitemaps haven't been changed, using the date modified options.

From an SEO perspective, it's better than most others because it also includes the images in each post, which makes your images rank (better) in Google Image Search. It also integrates tightly with the rest of the SEO plugin, meaning that a no indexed post automatically is left out of the XML sitemap, with the option to "force" it in.
2. Comment optimization

Get those readers involved

Comments are one of the most important aspects of blogs. As Wikipedia states:

The ability for readers to leave comments in an interactive format is an important part of many blogs.

Comments are not only nice because people tell you how special you are, or that you made a mistake, or whatever else they have to tell you. Most of all they're nice, because they show engagement. And engagement is one of the most important factors of getting people to link to you: they show you they care, and they open the conversation, now all you have to do is respond, and you're building a relationship!
2.1 How you get people to comment

The easiest way of getting people to do anything is: ask them to do it. Write in an engaging style, and then ask your blog's readers for an opinion, their take on the story etc.

Another important things is your comment links. Is your comment link "No comments »"? Or is it "No Comments yet, your thoughts are welcome »


2.2 Bond with your commenters

Another thing to do is thank people when they've commented on your weblog. Not every time, because that get's annoying, but doing it the first time is a very good idea.

Justin Shattuck thought the same, and created the Comment Relish plugin which sends an email after someone has made his first comment, unfortunately, this plugin is no longer maintained.


2.3 Keeping people in the conversation

Now that people have joined the conversation on your blog, you should make sure they stay in the conversation. That's why you should install the subscribe to comments plugin, that allows people to subscribe to a comment thread just like they would in a forum, and sends them an e-mail on each new comment. This way, you can keep the conversation going, and maybe your readers will be giving you new angles for new posts.


3. Off site blog SEO

If you've followed all of the above WordPress SEO advice, you've got a big chance of becoming successfull, both as a blogger and in the search engines. Now the last step sounds easy, but isn't. Go out there, and talk to people online.


3.1 Follow your commenters

There's been a movement on the web for a while now that's called the "You comment – I follow". They want you to remove the nofollow tag off of your comments to "reward" your visitors. Now I do agree, but… That get's you a whole lot of spam once your WordPress blog turns into a well ranked blog… What I do advocate though, is that you actually follow your visitors! Go to their websites, and leave a comment on one of their articles, a good, insightful comment, so they respect you even more.

If you think that's a lot of work, do realize that, on average, about 1% of your visitors will actually leave a comment. That's a group of people you have to take care of!


3.2 Use Twitter

Twitter is a cool form of micro-blogging / chatting / whatever you want to call it. Almost all the "cool" people are on there, and they read their tweets more often than they read their e-mail, if you even knew how to reach them through e-mail.

To boot, if you use WordTwit or Twitter Tools, all of your posts can be announced on Twitter, which will usually get you quite a few early readers! People will feel even more happy to comment on Twitter, which might get you into an extra conversation or two.


3.3 Find related blogs, and work them

If you want to rank for certain keywords, go into Google Blogsearch, and see which blogs rank in the top 10 for those keywords. Read those blogs, start posting insightful comments, follow up on their posts by doing a post on your own blog and link back to them: communicate! The only way to get the links you'll need to rank is to be a part of the community.
4. Measuring results

A good SEO campaign relies on not only implementing changes but also measuring the impact of those changes, seeing what works and doing more of that. Two words Google Analytics.

You can also measure results by tracking rankings, the problem with rank tracking though is that it's hard to determine "real" rankings because of personalized and localized search results. Really the best outcome of being great at WordPress SEO is to get more traffic.

Another great source of data is Google Webmaster Tools. One of the relatively simple tricks I always give people is the following:

go into Webmaster Tools;
go to "Your site on the web", then "Search queries".
Click on "Download this table".
Open the CSV file you get in Excel.
Replace all the instances of "<10″ in the Clicks column with 9.
Select the entire first row and click the filter button, usually the icon is a funnel:
filter icon
For the average position column, choose "greater than 5″, sort Ascending.
Then for the "Clicks" column, sort Descending.

You now have the keywords people are finding you for in the results pages where you rank below #6 The fact that they clicked on your result proves that they found your result interesting: see if you can optimize any of those terms so you'll rank higher than a #6 average rank: use the Page Analysis in the SEO plugin to improve the page, improve the copy, ask others to link to you, etc.
5. Conclusions on WordPress SEO

This guide gives you a lot of stuff you can do on your WordPress site. It goes from technical tips, to conversion tips, to content tips, to conversation tips, and a whole lot in between. There's a catch though: if you want to rank for highly competitive terms, you'll have to actually do most of it and create great and compelling content in the process.

If you want to keep updated on the latest news about WordPress, and hear more tips then join over mailing list over here: https://www.jamjo.ie/blog/