STEP 1
Log in to your sites Administration Panel (Dashboard). The URL address for this will always be your websites address (EXAMPLE: www.coolweb.com) followed by "/wp-admin". This will always be where you return to log into your sites administration panel. EXAMPLE: www.coolweb.com/wp-admin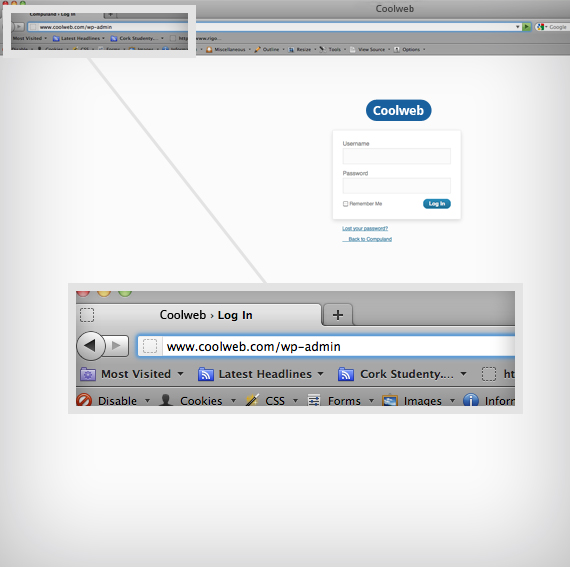 STEP 2
When you arrive at your sites admin log in page you will be asked to Input your unique USERNAME and PASSWORD that JamJo has provided for you.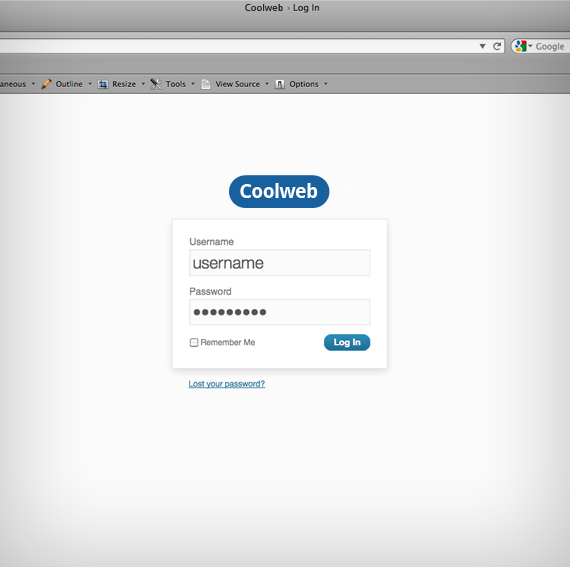 STEP 3
Welcome to your sites "Dashboard". From here you have full control over your sites content. For this article we are going to show you how to edit the slides of your website including adding new slides and deleting existing slides.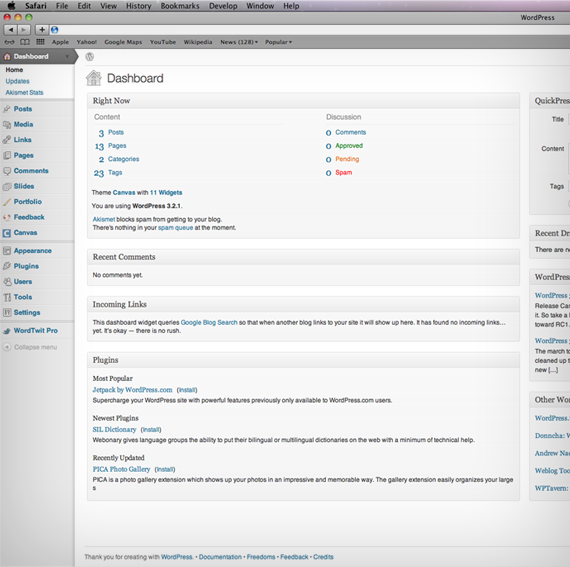 STEP 4
Let's add a new slide. Start by clicking the "Slides" tab.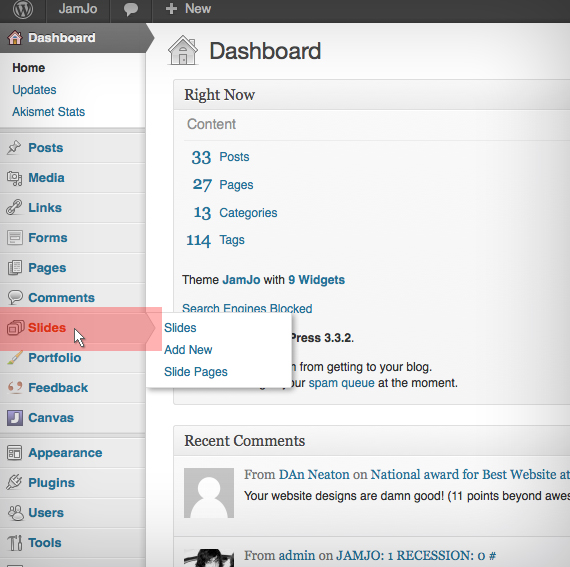 STEP 5
On the "Slides" screen we can see the existing slides that are on your website. Each slide has a "Title" and a "Date" the slide was published. (the date controls the ordering of the slides with newer slides appearing first) Note: By hovering over the title of each slide we have the option to "Trash" that slide. Be careful though, you don't want to trash anything you want to keep!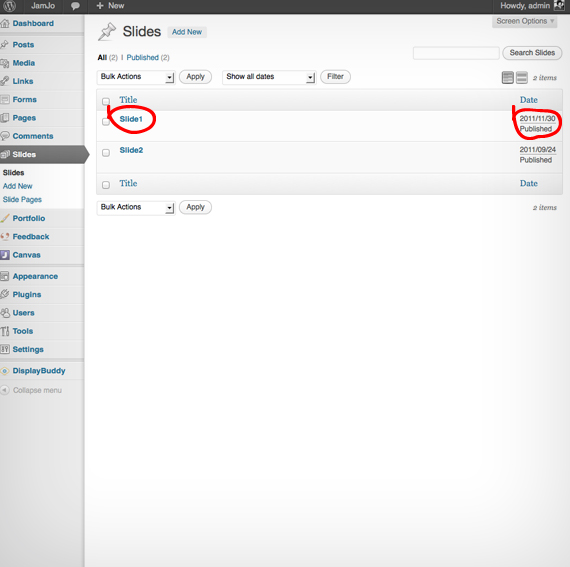 STEP 6
To add a new slide click the "Add New" button.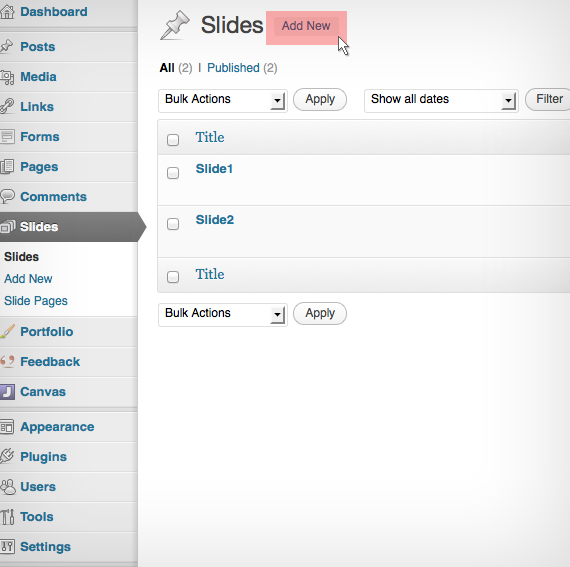 STEP 7
Does this look familiar? Well if you have posted any content to your websites blog, you'll notice that this screen is very much the same as the "Add New Post" screen. (Read "How to Write a Post")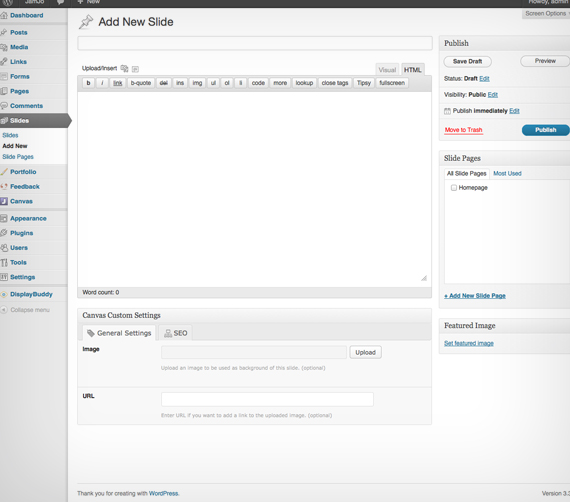 STEP 8
(a) Add your slide title here. (this will also be the title text that appears on the slide) (b) Add the body text here. (this will be the body text that appears on the slide. Be mindful of the word-count!) (c) Upload your slide image here. (the size of your image is VERY IMPORTANT. Read step 9 for more)
STEP 9
When you are uploading an image to be used as a slide on your homepage, it is very important to correctly size the image before uploading it. Your image MUST be exactly the same dimensions as the existing slides on your website. You can calculate the dimensions of an existing slide in a number of ways. One way is to right click on an existing slide image (on your homepage) and click "View Image Info" or "View Image Properties". The dimensions will appear in pixels as 570px × 151px for example. Size your image according to these dimensions.

STEP 10
When you are happy that your image for your new slide is the same dimensions as the existing slides on your website, then you are ready to upload it. Click the "Upload" button.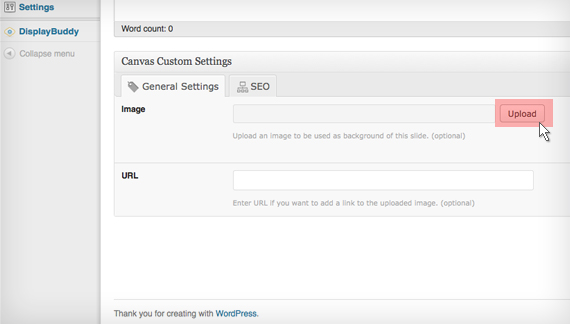 STEP 11
Click "Select Files" and select your image and upload it.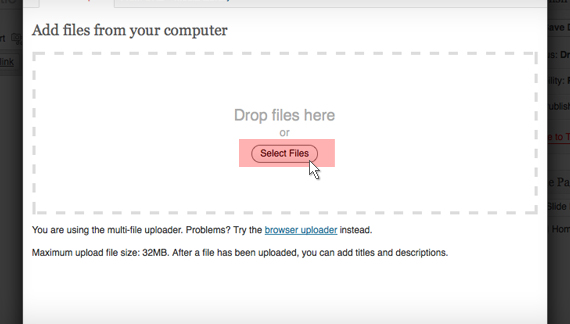 STEP 12
Give your image a "Title" and make sure the "Size" is set to "Full Size". Then click "Use this image".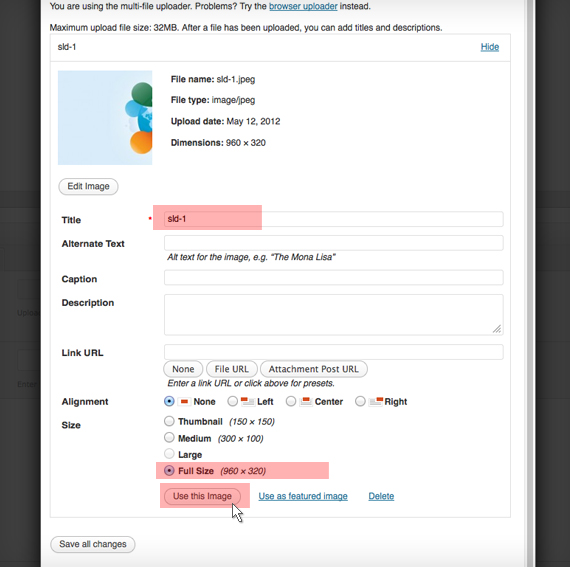 STEP 13
(a) We're nearly there now! Select the "Slide Page(s)" you want the slide to appear on. (In most cases you will just select "Homepage".) (b) Note you can edit the "Publish date" which controls the ordering of the slides too. (Remember latest slides appear first in order.) (c ) Click "Publish".
STEP 14
Voilà! Well done, your slide will appear on the homepage of your site. Keep in mind a couple of things: 1. The body text on the slide should be between 15-20 words. 2. Short titles are better. Fact! 3. Your image MUST be the exact same dimensions as the existing slides. The example below has a short "Title" (2 words), between 15-20 words and an image that is correctly sized.